The International Robotics Festival «RoboFinist 2015» will take place in Saint-Petersburg on  19-20th of September.
The Festival is conducted in order to develop young talents, research-and-technology creative work and robotics popularization among children of different ages.
The children practical robotics olympiad of middle and senior age categories, free creative category works' evaluation, educational robotics symposium, competitions in 28 categories, and also roundtable discussions, lections and workshops for all visitors, interested in scientific creative work will take place within the frames of the Festival.
Even today over 600 teams most talented and enthusiastic children of  Russia and all over the world registered for taking part in International Festival.
More photos and video by the links.
Venue: Saint-Petersburg, Expocenter «Garden City»: Lahtinskiy prospect 85-B.
Competition organizers: Charity Fund of Temur Amindzhanov «Finist» and President Lyceum of Physics and Mathematics № 239.
Glad to see you at the «RoboFinist 2015»!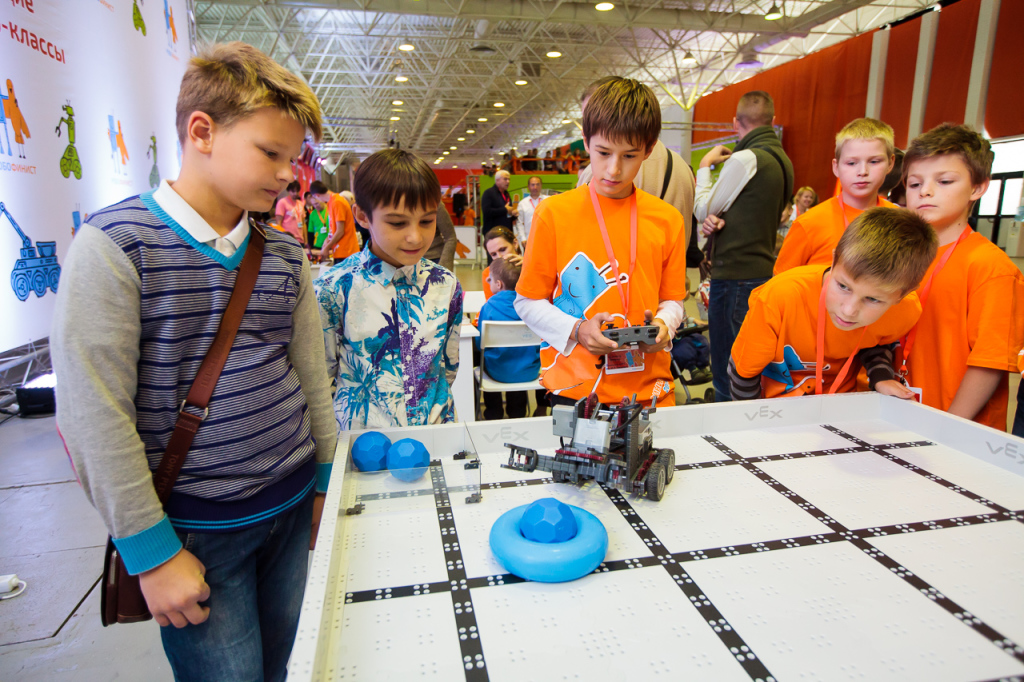 Reviews about Festival «RoboFinist 2014»:
Sergey Fillipov, head of President Lyceum of Physics and Mathematics № 239 robotics center: «We have already a serious experience of city and national robotics competitions organization. International Festival "RoboFinist" is a brand new standard. Why? The attitude to the participants is special. The main thing is not choosing a winner, but creating the atmosphere of professional holiday! It is evident that the children feel comfortable and receive a positive boost for scientific creative work. Participants from Russia and abroad come to thank us: they really liked the warm welcome and saturated program of the Festival»
Alyoshina Natalia: «Thanks to the festival! We are going home. I think, we performed worthily! Thanks to parents, teachers, our enthusiastic children, dear director of Gymnasium No 1 and, of course, to the organizers! "RoboFinist" became a real holiday!»
Anton Fedotov, teacher of Lyceum of Physics and Mathematics № 30: «Fantastic atmosphere! I had never seen such a Festival before, though I visited events a lot in Russia and Europe… Usually competitions are tough battle, crying, and screams of victory. Here is a wonderful group with the same views! We communicated with participants from tens of cities. Such a scale is so breathtaking! It was cosy like at home and informative: the children had wings grown!»
Dmitry Chuprov from Syktyvkar: «Children were amazed! The time was flying at crazy speed. Performances and program — at the very good level. I'm recollecting the magician, those shining robots from future, funny voice of square robots, snow, on which children were skating, clever robot at the entrance and many other things… I will definitely come again!»
Yulia from Kazan: «An amazing festival: colorful show, original decorations, impressive variety of competition types, truly royal treatment. Thank you!»