Greet the first in the world keyless bypass and engine start for new Ford Kuga and Ford Focus Titanium with Start/Stop introduced by StarLine!
Ford
+ Kuga 2017-2018
+ Ford Focus Start-Stop (Titanium) 2015-2018
To perform remote start make an easy connection to two CAN buses in the car without any start circuits connections.
The auto start activation procedure will take less than 1 minute according to instruction at can.starline.ru.
Quick immobilizer bypass is available as a gift in most of StarLine systems with 2CAN-2LIN interface. We remind you the full list of car brands and models for which the keyless bypass is supported.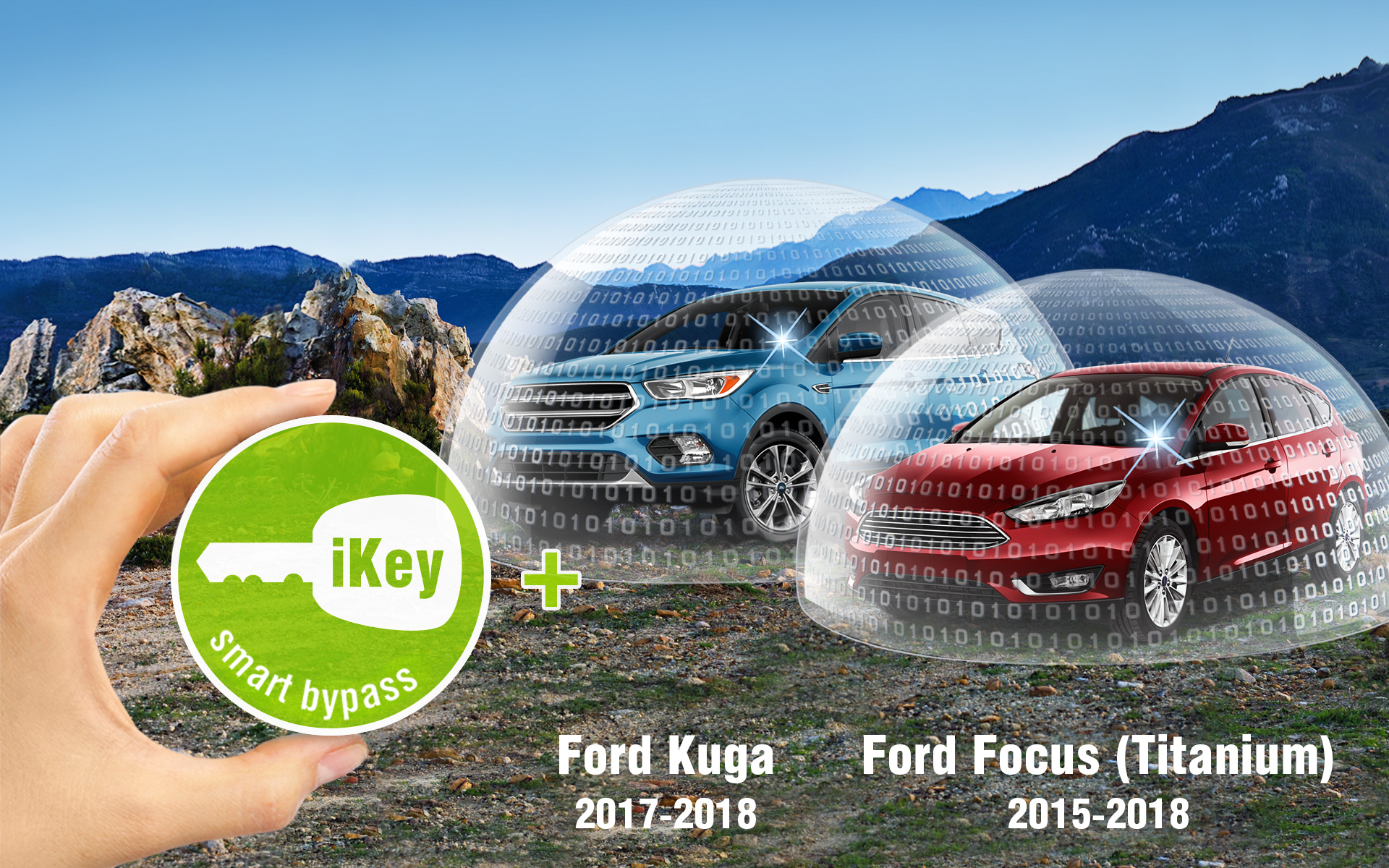 Brand

Model

+ Ford

Kuga

2017-2018

+ Ford

Focus with Start/Stop (Titanium)

2015-2018

Ford

C-Max

2003-2009

Ford

Focus 2 (Ghia, Titanium)

2005-2011

Ford

Focus 2

2005-2011

Ford

Focus 3 (SYNC Edition White & Black)

2015-2018

Ford

Focus 3 (Ambiente)

2015-2018

Ford

Kuga

2013-2016

Audi

Q3

2011-2018

Cadillac

Escalade

2008-2014

Cadillac

Escalade

2015-2017

Cadillac

Escalade

2018-…

Cadillac

SRX

2003-2010

Chevrolet

Aveo

2012-2016


Chevrolet

Cobalt

2013-2018


Chevrolet

Cruze

2009-2015


Chevrolet

Cruze (with Start/Stop)

2009-2015


Chevrolet

Lacetti

2013-2018


Chevrolet

Malibu

2013-2015


Chevrolet

Malibu

2016-2018


Chevrolet

Nexia

2016-2018


Chevrolet

Orlando

2012-2018


Chevrolet

Spark

2016-2018


Chevrolet

Tahoe

2008-2014

Citroen

C-Crosser

2007-2013

Citroen

C4 Aircross

2012-2018

Datsun

mi-Do

2015-2018


Datsun

on-Do

2014-2018

Fiat

Fullback

2016-2018

Genesis

G80

2016-2018


Genesis

G90

2016-2018

Honda

Civic

2006-2011


Honda

CR-V

2008-2012


Honda

Insight RHD

2009-2014

Hummer

H2

2008-2009

Hyundai

Creta

2016-2018


Hyundai

Creta (with Start/Stop)

2016-2018


Hyundai

Elantra

2012-2015


Hyundai

Elantra (with Start/Stop)

2012-2015


Hyundai

Elantra

2016-2018


Hyundai

Equus

2014-2018


Hyundai

Genesis

2014-2018


Hyundai

Grand Santa Fe (with Start/Stop)

2014-2018


Hyundai

Grand Santa Fe

2014-2018


Hyundai

H-1

2008-2018


Hyundai

i20

2016-2018


Hyundai

i30

2012-2016


Hyundai

i30 (Classic)

2012-2016


Hyundai

i30 (with Start/Stop)

2017-2018


Hyundai

i30

2007-2011


Hyundai

i40 (with Start/Stop)

2012-2018


Hyundai

i40

2012-2018


Hyundai

ix35

2014-2015


Hyundai

ix35

2010-2013


Hyundai

ix35 (with Start/Stop)

2010-2013


Hyundai

ix35 (with Start/Stop)

2014-2015


Hyundai

Santa Fe (with Start/Stop)

2010-2012


Hyundai

Santa Fe (with Start/Stop)

2013-2018


Hyundai

Santa Fe

2013-2018


Hyundai

Santa Fe

2010-2012


Hyundai

Solaris (with Start/Stop)

2011-2015


Hyundai

Solaris (key without remotecontrolled)

2017-2018


Hyundai

Solaris (with Start/Stop)

2017-2018


Hyundai

Solaris (key without remote controlled)

2017-2018


Hyundai

Solaris

2011-2015


Hyundai

Solaris

2016-2016


Hyundai

Solaris (with Start/Stop)

2016-2016


Hyundai

Sonata

2015-2017


Hyundai

Sonata (with Start/Stop)

2015-2017


Hyundai

Sonata (with Start/Stop)

2018-…


Hyundai

Sonata

2018-…


Hyundai

Tucson (with Start/Stop)

2016-2018


Hyundai

Tucson

2016-2018

Infiniti

QX50

2014-2018


Infiniti

QX60

2014-2018


Infiniti

QX70

2014-2018


Infiniti

QX80

2014-2018

Jeep

Grand Cherokee

2014-2018

KIA

Cadenza (with Start/Stop)

2014-2017


KIA

Carens (with Start/Stop)

2013-2018


KIA

Carnival (with Start/Stop)

2015-2018


KIA

Cee'd

2012-2015


KIA

Cee'd (with Start/Stop)

2012-2015


KIA

Cee'd

2016-2018


KIA

Cee'd (with Start/Stop)

2016-2018


KIA

Cee'd Pro (with Start/Stop)

2013-2015


KIA

Cee'd Pro

2013-2015


KIA

Cee'd SW (with Start/Stop)

2012-2015


KIA

Cee'd SW

2012-2015


KIA

Cerato (with Start/Stop)

2013-2016


KIA

Cerato

2013-2016


KIA

Cerato

2017-2018


KIA

Cerato (with Start/Stop)

2017-2018


KIA

Mohave (with Start/Stop)

2009-2016


KIA

Mohave (with Start/Stop)

2017-2018


KIA

Mohave

2009-2016


KIA

Mohave

2017-2018


KIA

Niro

2017-2018


KIA

Niro (with Start/Stop)

2017-2018


KIA

Optima (with Start/Stop)

2010-2015


KIA

Optima

2010-2015


KIA

Optima

2016-2018


KIA

Picanto (with Start/Stop)

2011-2016


KIA

Picanto

2011-2016


KIA

Picanto (key without remote controlled)

2017-2018


KIA

Picanto (with Start/Stop)

2017-2018


KIA

Picanto (key with remote controlled)

2017-2018


KIA

Quoris

2013-2018


KIA

Rio (Prestige)

2011-2015


KIA

Rio (with Start/Stop)

2011-2015


KIA

Rio

2016-2017


KIA

Rio (with Start/Stop)

2016-2017


KIA

Rio (Prestige)

2016-2017


KIA

Rio

2011-2015


KIA

Rio (with Start/Stop)

2017-2018


KIA

Rio (key with remote controlled)

2017-2018


KIA

Rio (key without remote controlled)

2017-2018


KIA

Sorento

2013-2018


KIA

Sorento (with Start/Stop)

2013-2018


KIA

Sorento Prime

2015-2018


KIA

Sorento Prime (with Start/Stop)

2015-2018


KIA

Soul (with Start/Stop)

2014-2016


KIA

Soul

2014-2016


KIA

Soul

2017-2018


KIA

Soul (with Start/Stop)

2017-2018


KIA

Sportage (with Start/Stop)

2010-2015


KIA

Sportage

2010-2015


KIA

Sportage (with Start/Stop)

2016-2018


KIA

Sportage

2016-2018


KIA

Stinger (with Start/Stop)

2017-2018


KIA

Stonic

2017-2018


KIA

Venga

2011-2018


KIA

Venga (with Start/Stop)

2011-2018

Lada

Granta

2011-2018


Lada

Kalina II

2013-2018


Lada

Largus

2012-2016


Lada

Largus

2017-2018


Lada

Priora

2013-2018


Lada

Vesta

2015-2018


Lada

Xray

2016-2018

Lexus

CT 200h

2011-2015


Lexus

ES

2016-2018


Lexus

ES 250

2012-2015


Lexus

ES 350 (with Start/Stop)

2006-2012


Lexus

GS 350 (with Start/Stop)

2012-2016


Lexus

GX

2009-2018


Lexus

IS

2013-2018


Lexus

LX

2016-2018


Lexus

LX 570

2008-2015


Lexus

NX

2014-2018


Lexus

RX

2009-2015


Lexus

RX

2016-2018

Mazda

3

2014-2018


Mazda

3

2009-2013


Mazda

6

2008-2012


Mazda

6 (with Start/Stop)

2013-2018


Mazda

6 (Supreme Plus)

2015-2018


Mazda

Biante RHD

2008-2018


Mazda

CX-3

2016-2018


Mazda

CX-5

2013-2018


Mazda

CX-7

2006-2012


Mazda

CX-9

2016-2018


Mazda

Demio RHD

2014-2018


Mazda

Premacy RHD

2007-2012

Mitsubishi

ASX

2010-2018


Mitsubishi

Galant Fortis RHD

2008-2014


Mitsubishi

L200

2008-2015


Mitsubishi

L200

2016-2018


Mitsubishi

Lancer

2008-2014


Mitsubishi

Mirage

2012-2018


Mitsubishi

Outlander

2012-2018


Mitsubishi

Outlander XL

2007-2012


Mitsubishi

Pajero IV

2007-2018


Mitsubishi

Pajero Sport

2016-2018


Mitsubishi

Pajero Sport

2008-2015


Mitsubishi

RVR RHD

2010-2014

Nissan

Almera

2012-2018


Nissan

Dualis RHD

2006-2013


Nissan

Juke (Keyless)

2011-2018


Nissan

Juke

2011-2018


Nissan

Leaf RHD

2009-2017


Nissan

Murano

2016-2018


Nissan

Murano

2011-2015


Nissan

Navara

2011-2015


Nissan

Navara

2005-2010


Nissan

Note (with Start/Stop)

2011-2015


Nissan

Note

2011-2015


Nissan

Pathfinder (Keyless)

2005-2014


Nissan

Pathfinder (Keyless)

2015-2018


Nissan

Pathfinder (Keyless)

2015-2018


Nissan

Patrol

2012-2018


Nissan

Qashqai

2006-2013


Nissan

Qashqai (Keyless)

2006-2013


Nissan

Qashqai

2014-2018


Nissan

Qashqai+2 (Keyless)

2008-2014


Nissan

Sentra

2014-2018


Nissan

Sentra (with Start/Stop)

2014-2018


Nissan

Serena

2010-2016


Nissan

Teana

2014-2018


Nissan

Teana

2008-2013


Nissan

Terrano

2016-2018


Nissan

Tiida (Keyless)

2007-2014


Nissan

Tiida (Keyless)

2015-2018


Nissan

Tiida

2007-2014


Nissan

X-Trail (Keyless)

2007-2014


Nissan

X-Trail

2007-2014


Nissan

X-Trail

2015-2018


Nissan

X-Trail RHD

2015-2018

Opel

Astra J

2010-2015


Opel

Astra K

2016-2018

Peugeot

4007

2007-2012


Peugeot

4008

2012-2018

Ravon

Nexia R3

2017-2018


Ravon

R2

2016-2018


Ravon

R4

2016-2018

Renault

Dokker

2012-2018


Renault

Duster I

2009-2014


Renault

Duster II

2015-2018


Renault

Kadjar

2016-2018


Renault

Kaptur

2016-2018


Renault

Koleos

2017-2018


Renault

Logan I

2007-2012


Renault

Logan II

2013-2018


Renault

Megane IV (with Start/Stop)

2017-2018


Renault

Megane IV

2017-2018


Renault

Sandero

2007-2012


Renault

Sandero II

2013-2018


Renault

Trafic

2017-2018

Škoda

Fabia

2010-2014


Škoda

Octavia II

2009-2012


Škoda

Rapid

2013-2015


Škoda

Yeti

2009-2018

Smart

ForFour

2014-2018

Subaru

Forester 4 (with Start/Stop)

2013-2018


Subaru

Forester 4

2013-2018


Subaru

Outback (with Start/Stop)

2015-2018


Subaru

Trezia (with Start/Stop)

2010-2018


Subaru

XV (with Start/Stop)

2012-2017


Subaru

XV

2012-2017


Subaru

XV (with Start/Stop)

2018-…


Subaru

XV

2018-…

Toyota

Allion RHD (with Start/Stop)

2007-2012


Toyota

Alphard

2012-2018


Toyota

Alphard (with Start/Stop)

2008-2011


Toyota

Aqua RHD (with Start/Stop)

2011-2014


Toyota

Auris (with Start/Stop)

2012-2018


Toyota

Auris RHD (with Start/Stop)

2007-2011


Toyota

Belta RHD (with Start/Stop)

2006-2009


Toyota

C-HR

2017-2018


Toyota

Camry XV40 (with Start/Stop)

2007-2010


Toyota

Camry XV50 (with Start/Stop)

2012-2017


Toyota

Camry XV50

2012-2017


Toyota

Camry XV70 (with Start/Stop)

2018-…


Toyota

Corolla

2013-2018


Toyota

Corolla (with Start/Stop)

2013-2018


Toyota

Corolla (with Start/Stop)

2006-2012


Toyota

Crown RHD (Hybrid)

2012-2015


Toyota

Crown RHD (with Start/Stop)

2012-2015


Toyota

Estima RHD (with Start/Stop)

2012-2016


Toyota

Fielder RHD (with Start/Stop)

2013-2018


Toyota

Fielder RHD (with Start/Stop)

2007-2012


Toyota

Fortuner (with Start/Stop)

2015-2018


Toyota

Fortuner

2015-2018


Toyota

Harrier RHD (with Start/Stop)

2013-2018


Toyota

Highlander (with Start/Stop)

2008-2013


Toyota

Highlander (with Start/Stop)

2014-2018


Toyota

Hilux

2016-2018


Toyota

Hilux (with Start/Stop)

2016-2018


Toyota

iQ RHD (with Start/Stop)

2008-2016


Toyota

ist RHD (with Start/Stop)

2007-2018


Toyota

Land Cruiser 200

2016-2018


Toyota

Land Cruiser 200

2008-2015


Toyota

Land Cruiser 200 RHD

2008-2015


Toyota

Land Cruiser Prado (with Start/Stop)

2010-2017


Toyota

Land Cruiser Prado

2015-2017


Toyota

Land Cruiser Prado (with Start/Stop)

2018-…


Toyota

Land Cruiser Prado

2018-…


Toyota

Land Cruiser Prado RHD (with Start/Stop)

2010-2018


Toyota

Mark X RHD (with Start/Stop)

2012-2016


Toyota

Noah RHD (with Start/Stop)

2010-2013


Toyota

Noah RHD (with Start/Stop)

2014-2018


Toyota

Porte RHD (with Start/Stop)

2012-2018


Toyota

Prius (with Start/Stop)

2016-2018


Toyota

Prius (with Start/Stop)

2010-2015


Toyota

Prius RHD (with Start/Stop)

2010-2015


Toyota

Ractis RHD (with Start/Stop)

2010-2018


Toyota

RAV 4 (with Start/Stop)

2006-2012


Toyota

RAV 4

2013-2018


Toyota

RAV 4 (with Start/Stop)

2013-2018


Toyota

Sai RHD (with Start/Stop)

2009-2018


Toyota

Vanguard RHD (with Start/Stop)

2006-2012


Toyota

Vellfire RHD

2011-2015


Toyota

Venza (with Start/Stop)

2012-2016


Toyota

Vitz RHD (with Start/Stop)

2010-2018


Toyota

Vitz RHD (with Start/Stop)

2006-2009


Toyota

Voxy RHD (with Start/Stop)

2007-2013


Toyota

Wish RHD (with Start/Stop)

2009-2018

Volkswagen

Amarok

2010-2016


Volkswagen

Caddy

2010-2015


Volkswagen

Caravelle

2016-2018


Volkswagen

Golf 6

2008-2013


Volkswagen

Golf Plus

2009-2014


Volkswagen

Jetta

2010-2018


Volkswagen

Multivan

2011-2018


Volkswagen

Passat B7

2011-2015


Volkswagen

Passat CC

2011-2015


Volkswagen

Polo Sedan

2012-2018


Volkswagen

Scirocco

2008-2015


Volkswagen

Tiguan

2010-2016


Volkswagen

Transporter

2016-2018