StarLine updates the software of all smart and reliable security and telematic complexes of the 6th generation. Download version 1.5.0
StarLine X96

StarLine M96

StarLine M66
Be sure to use the new 2.0.0 version of StarLine Master to set up and program security and telematic complexes with new firmware.
Starting with version 2.0.0, setup of flexible logic will be available only to the authorized installers. Become authorized to get full access to the unique opportunities of the 6th generation StarLine complexes.
If you are authorized as the installer of the 6th generation, it is necessary to enter your personal account to get access to the full range of settings. For this purpose, click the icon in the upper right corner of the main screen and enter your login and password.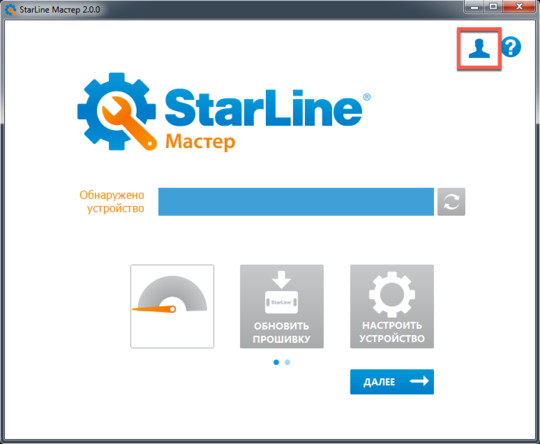 The interaction of different firmware versions of the 6th generation and StarLine Master are shown in the diagram: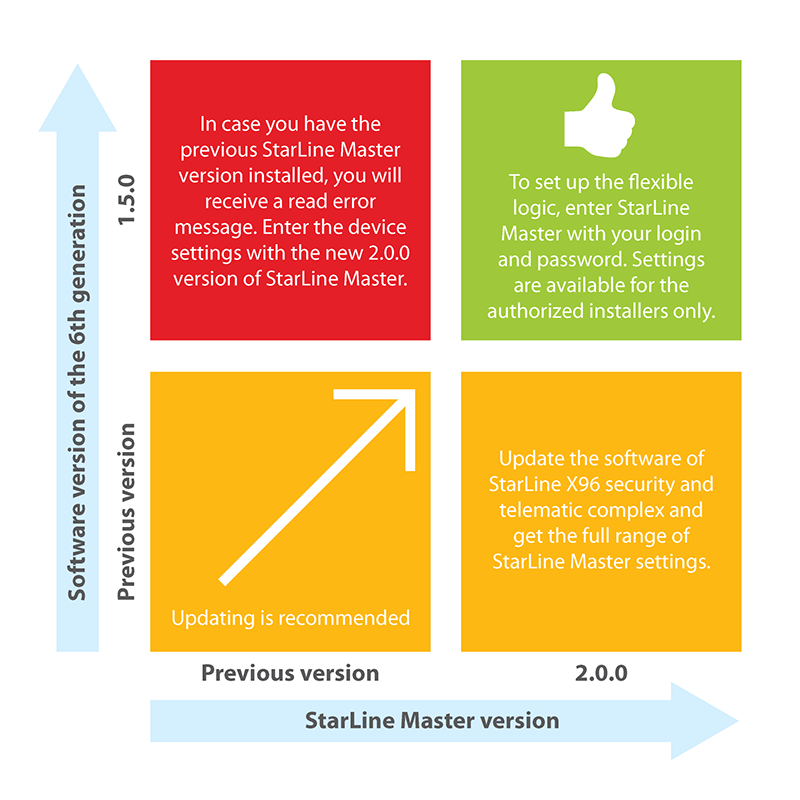 New features of StarLine security and telematic equipment of the 6th generation:
Improved encryption algorithm between StarLine security complexes and starline.online telematic server
Setup of StarLine A96 with the control pager
Display of the balance of two SIM cards both at the website and in the mobile app
Possibility to switch to the other SIM card in the «Event Log»
Setup of sending SMS about the loss of label on the move
Start of learning the insurance telematics via SMS
Only the authorized installers may set up the flexible logic. For this purpose, it is necessary to log in.
Server notification on the incorrect PIN code
The number of notifications on no connection to R6 is limited
Improved voice menu
Periodical sending of an alert to the control pager
Control of the preheater through CAN bus
New functions are added to the flexible logic
Improved behavior of tilt and motion sensors while engine shutdown
Listening of the car salon is switched off after 4 minutes
Light signals are switched off when arming and disarming
SMS command to reset the authorization code of the owner with the standard buttons
Expanded insurance telematics: new function to separate the balance of the insurance company from the user's balance is added
«Beach» mode: the user code is entered using the door handle
Possibility to display events on the server in real time
Possibility to transfer the status of the hood from R6 to the main unit
The operating time of the turbo timer in the car with the start-stop button is automatically extended until the arming
Setup of «trip prohibition» after each ignition
Improved setting «ignore SMS commands sent more than an hour ago»
The output of the «label status» is added by the constant level in the «car service» mode.