Welcome the first in the world new calculating algorithm for smart keyless bypass of the factory immobilizer for the following vehicles:
Honda
+ CR-V (V) 2017-2018 (key)
+ CR-V (V) 2017-2018 (Start-Stop button) 
+ Fit RHD 2013-2018
+ Shuttle RHD 2015-2018
+ CR-V (IV) 2013-2016 (key)
The software with keyless bypass functions is available at can.starline.ru
The list of supported cars is permanently increasing, watch after updates.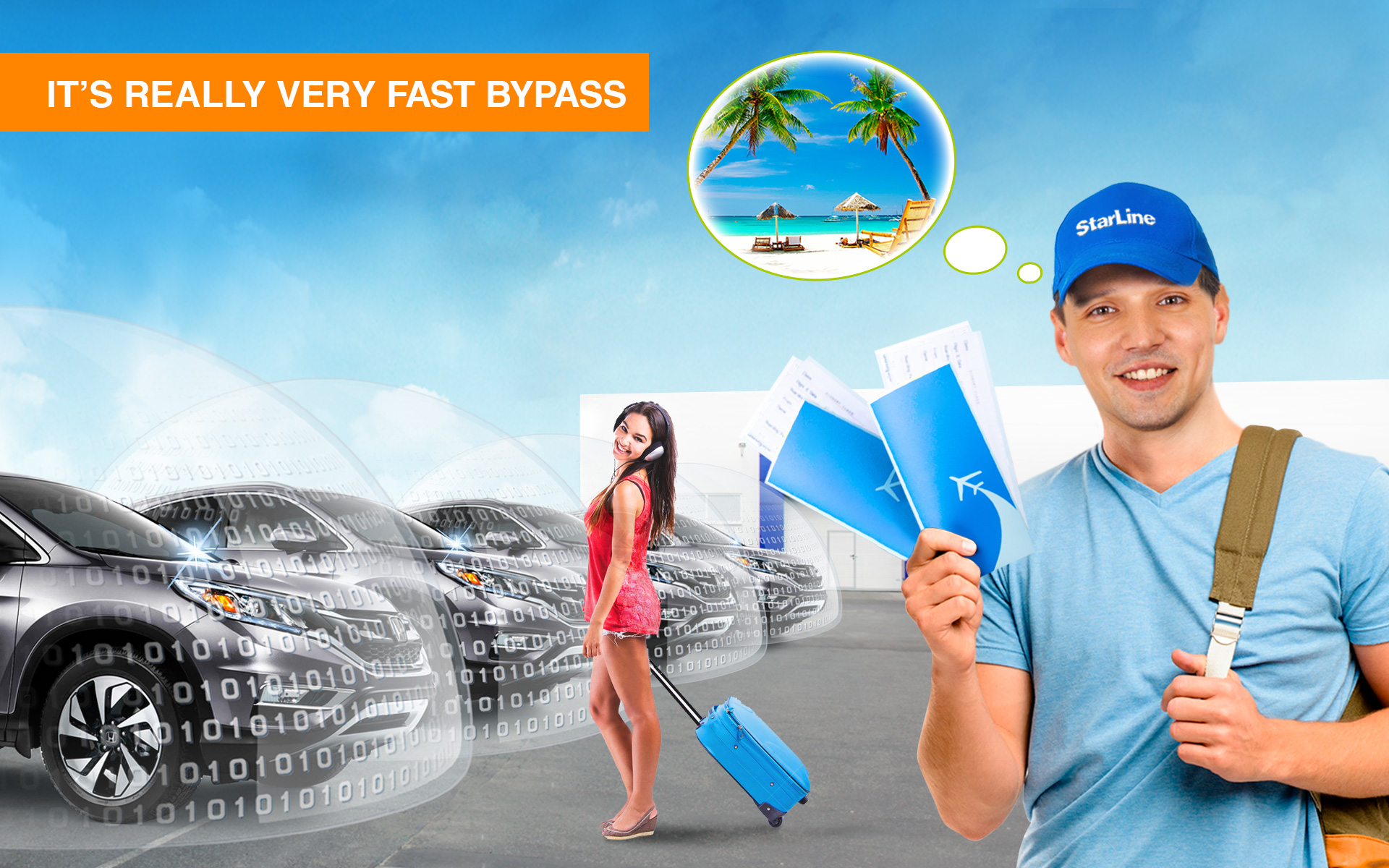 It time to outpace and save!
If you work with these vehicles, so you may increase orders amount and beat your business targets!
You will save 10-15 min while every StarLine security – telematics system installation and up to 20 days during a year.
The simplified training procedure is performed without CopyKey service, right inside a car during only 10 sec – which is 60 times faster than on regular car alarm and remote start systems.
Quick bypass for Honda is available free of charge in most of StarLine systems with 2CAN+2LIN interface.
Brand

Model

+ Honda

CR-V (key)

2017-2018

+ Honda

CR-V (with Start/Stop )

2017-2018

+ Honda

CR-V (key)

2013-2016

+ Honda

Fit RHD

2013-2018

+ Honda

Shuttle RHD

2015-2018

Honda

Civic

2006-2011

Honda

CR-V

2008-2012

Honda

Insight RHD

2009-2014

Audi

Q3

2011-2018

Cadillac

Escalade

2015-2017

Cadillac

Escalade

2018-…

Chevrolet

Aveo

2012-2016


Chevrolet

Cobalt

2013-2018


Chevrolet

Cruze

2009-2015


Chevrolet

Cruze (with Start/Stop )

2009-2015

Chevrolet

Lacetti

2013-2018


Chevrolet

Malibu

2013-2015


Chevrolet

Malibu

2016-2018


Chevrolet

Nexia

2016-2018


Chevrolet

Orlando

2012-2018


Chevrolet

Spark

2016-2018


Chevrolet

Tracker

2013 — 2017

Citroen

C-Crosser

2007-2013

Citroen

C4 Aircross

2012-2018

Datsun

mi-Do

2015-2018


Datsun

on-Do

2014-2018

Fiat

Fullback

2016-2018

Ford

C-Max

2003-2009

Ford

Focus 2 (Ghia, Titanium)

2005-2011

Ford

Focus 2 (Comfort)

2005-2011

Ford

Focus 3 (SYNC Edition White & Black)

2015-2018

Ford

Focus 3 (Ambiente)

2015-2018

Ford

Focus 3 (Titanium (с двигателем 1.5л))

2015-2018

Ford

Focus 3 (Titanium, Trend Sport, Trend)

2011-2014

Ford

Kuga (with Start/Stop )

2017-2018

Ford

Kuga

2013-2016

Genesis

G70

2017-2018


Genesis

G80

2016-2018


Genesis

G90

2016-2018

Hyundai

Creta

2016-2018


Hyundai

Creta (with Start/Stop )

2016-2018


Hyundai

Elantra

2012-2015


Hyundai

Elantra (with Start/Stop )

2012-2015


Hyundai

Elantra

2016-2018


Hyundai

Equus

2014-2018


Hyundai

Genesis

2014-2017


Hyundai

Grand Santa Fe (with Start/Stop )

2014-2018


Hyundai

Grand Santa Fe

2014-2018


Hyundai

H-1

2008-2018


Hyundai

i20

2016-2018


Hyundai

i30 (Active)

2012-2016


Hyundai

i30 (Classic)

2012-2016


Hyundai

i30 (with Start/Stop )

2017-2018


Hyundai

i30

2007-2011


Hyundai

i40 (with Start/Stop )

2012-2018


Hyundai

i40

2012-2018


Hyundai

ix35

2014-2015


Hyundai

ix35

2010-2013


Hyundai

ix35 (with Start/Stop )

2010-2013


Hyundai

ix35 (with Start/Stop )

2014-2015


Hyundai

Santa Fe (with Start/Stop )

2019-…


Hyundai

Santa Fe (with Start/Stop )

2010-2012


Hyundai

Santa Fe (with Start/Stop )

2013-2018


Hyundai

Santa Fe

2019-…


Hyundai

Santa Fe

2013-2018


Hyundai

Santa Fe

2010-2012


Hyundai

Solaris

(with Start/Stop )

2011-2015


Hyundai

Solaris (key with remote controlled)

2017-2018


Hyundai

Solaris (with Start/Stop )

2017-2018


Hyundai

Solaris (key without remote controlled)

2017-2018


Hyundai

Solaris

2011-2015


Hyundai

Solaris

2016-2016


Hyundai

Solaris (with Start/Stop )

2016-2016


Hyundai

Sonata

2015-2017


Hyundai

Sonata (with Start/Stop )

2015-2017


Hyundai

Sonata (with Start/Stop )

2018-…


Hyundai

Sonata

2018-…


Hyundai

Tucson

(with Start/Stop )

2016-2018


Hyundai

Tucson

2016-2018

Infiniti

QX50

2014-2018


Infiniti

QX60

2014-2018


Infiniti

QX70

2014-2018


Infiniti

QX80

2014-2018

KIA

Cadenza

(with Start/Stop )

2014-2017


KIA

Carens (with Start/Stop )

2013-2018


KIA

Carnival (with Start/Stop )

2015-2018


KIA

Cee'd

2019-…


KIA

Cee'd

(with Start/Stop)

2019-…


KIA

Cee'd

2012-2015


KIA

Cee'd (

(with Start/Stop)

2012-2015


KIA

Cee'd

2016-2018


KIA

Cee'd (with Start/Stop)

2016-2018


KIA

Cee'd

2006-2011


KIA

Cee'd Pro (

with Start/Stop)

2013-2015


KIA

Cee'd Pro

2013-2015


KIA

Cee'd SW (

with Start/Stop)

2012-2015


KIA

Cee'd SW

2012-2015


KIA

Cerato (

with Start/Stop)

2019-…


KIA

Cerato

2019-…


KIA

Cerato (

with Start/Stop)

2013-2016


KIA

Cerato

2013-2016


KIA

Cerato

2017-2018


KIA

Cerato (with Start/Stop)

2017-2018


KIA

Mohave (with Start/Stop)

2009-2016


KIA

Mohave (with Start/Stop)

2017-2018


KIA

Mohave

2009-2016


KIA

Mohave

2017-2018


KIA

Niro

2017-2018


KIA

Niro (with Start/Stop)

2017-2018


KIA

Optima (

with Start/Stop)

2010-2015


KIA

Optima

2010-2015


KIA

Optima

2016-2018


KIA

Picanto (

with Start/Stop)

2011-2016


KIA

Picanto

2011-2016


KIA

Picanto (key without remote controlled)

2017-2018


KIA

Picanto (with Start/Stop)

2017-2018


KIA

Picanto (key with remote controlled)

2017-2018


KIA

Quoris

2013-2018


KIA

Rio (Prestige)

2011-2015


KIA

Rio (

with Start/Stop)

2011-2015


KIA

Rio

2016-2017


KIA

Rio (with Start/Stop)

2016-2017


KIA

Rio (Prestige)

2016-2017


KIA

Rio

2011-2015


KIA

Rio (with Start/Stop)

2017-2018


KIA

Rio (key with remote controlled)

2017-2018


KIA

Rio (key without remote controlled)

2017-2018


KIA

Sorento

2013-2018


KIA

Sorento (

with Start/Stop)

2013-2018


KIA

Sorento Prime

2015-2018


KIA

Sorento Prime (with Start/Stop)

2015-2018


KIA

Soul (

with Start/Stop)

2014-2016


KIA

Soul

2014-2016


KIA

Soul

2017-2018


KIA

Soul (with Start/Stop)

2017-2018


KIA

Sportage (

with Start/Stop)

2010-2015


KIA

Sportage

2010-2015


KIA

Sportage (

with Start/Stop)

2016-2018


KIA

Sportage

2016-2018


KIA

Stinger (with Start/Stop)

2017-2018


KIA

Stonic

2017-2018


KIA

Venga

2011-2018


KIA

Venga (with Start/Stop)

2011-2018

Lada

Granta

2011-2018


Lada

Kalina II

2013-2018


Lada

Largus

2012-2016


Lada

Largus

2017-2018


Lada

Priora

2013-2018


Lada

Vesta

2015-2018


Lada

Xray

2016-2018

Lexus

CT 200h

2011-2015


Lexus

ES (with Start/Stop)

2018-…


Lexus

ES (with Start/Stop)

2015-2018


Lexus

ES 250

2012-2015


Lexus

ES 350 (with Start/Stop)

2006-2012


Lexus

GS 350 (with Start/Stop)

2012-2016


Lexus

GX (with Start/Stop)

2009-2018


Lexus

IS (with Start/Stop)

2013-2018


Lexus

LS (with Start/Stop)

2016-2018


Lexus

LX (with Start/Stop)

2016-2018


Lexus

LX 570 (with Start/Stop)

2008-2015


Lexus

NX (with Start/Stop)

2014-2018


Lexus

RX (with Start/Stop)

2009-2015


Lexus

RX (with Start/Stop)

2016-2018

Lexus

UX (with Start/Stop, Hybrid)

2019-…

Lexus

UX (with Start/Stop)

2019-…

Lifan

Murman (with Start/Stop)

2015-2018

Lifan

Myway (with Start/Stop)

2017-2018

Lifan

X70

2018-…

Lifan

Solano

2016-2018

Lifan

Solano (with Start/Stop)

2016-2018

Mazda

2

2014-2018


Mazda

3

2014-2018


Mazda

3

2009-2013


Mazda

6

2008-2012


Mazda

6 (with Start/Stop)

2013-2018


Mazda

6 (Supreme Plus)

2015-2018


Mazda

Axela RHD

2006-2009


Mazda

Biante RHD

2008-2018


Mazda

CX-3

2016-2018


Mazda

CX-5

2013-2018


Mazda

CX-7

2006-2012


Mazda

CX-9

2016-2018


Mazda

Demio RHD

2017-2013


Mazda

Demio RHD

2014-2018


Mazda

Premacy RHD

2007-2012

Mitsubishi

ASX

2010-2018


Mitsubishi

Eclipse Cross

2018-…


Mitsubishi

Eclipse Cross (with Start/Stop)

2018-…


Mitsubishi

Galant Fortis RHD

2008-2014


Mitsubishi

L200

2008-2015


Mitsubishi

L200

2016-2018


Mitsubishi

Lancer

2008-2014


Mitsubishi

Mirage

2012-2018


Mitsubishi

Outlander

2012-2018


Mitsubishi

Outlander XL

2007-2012


Mitsubishi

Pajero IV

2007-2018


Mitsubishi

Pajero Sport

2016-2018


Mitsubishi

Pajero Sport (with Start/Stop)

2016-2018


Mitsubishi

Pajero Sport

2008-2015


Mitsubishi

RVR RHD

2010-2014

Nissan

Almera

2012-2018


Nissan

Dualis RHD

2006-2013


Nissan

Juke (Keyless)

2011-2018


Nissan

Juke

2011-2018


Nissan

Leaf RHD

2009-2017


Nissan

Murano

2016-2018


Nissan

Murano

2011-2015


Nissan

NV300

2014 — 2018


Nissan

Navara

2011-2015


Nissan

Navara

2005-2010


Nissan

Note (with Start/Stop)

2011-2015


Nissan

Note

2011-2015


Nissan

Pathfinder (Keyless)

2005-2014


Nissan

Pathfinder (Keyless)

2015-2018


Nissan

Patrol

2012-2018


Nissan

Qashqai

2006-2013


Nissan

Qashqai (Keyless)

2006-2013


Nissan

Qashqai

2014-2018


Nissan

Qashqai+2 (Keyless)

2008-2014


Nissan

Sentra

2014-2018


Nissan

Sentra (with Start/Stop)

2014-2018


Nissan

Serena

2010-2016


Nissan

Teana

2014-2018


Nissan

Teana

2008-2013


Nissan

Terrano

2016-2018


Nissan

Tiida (Keyless)

2007-2014


Nissan

Tiida (Keyless)

2015-2018


Nissan

Tiida

2007-2014


Nissan

X-Trail (Keyless)

2007-2014


Nissan

X-Trail

2007-2014


Nissan

X-Trail

2015-2018


Nissan

X-Trail RHD

2015-2018

Opel

Astra J

2010-2015


Opel

Astra K

2016-2018

Opel

Insignia

2017-2018

Peugeot

4007

2007-2012


Peugeot

4008

2012-2018

Ravon

Gentra

2015-2018


Ravon

Nexia R3

2017-2018


Ravon

R2

2016-2018


Ravon

R4

2016-2018

Renault

Dokker

2012-2018


Renault

Duster I

2009-2014


Renault

Duster II

2015-2018


Renault

Espace

2014-2018


Renault

Kadjar

2016-2018


Renault

Kaptur

2016-2018


Renault

Koleos

2017-2018


Renault

Logan I

2007-2012


Renault

Logan II

2013-2018


Renault

Megane IV (

with Start/Stop)

2017-2018


Renault

Megane IV

2017-2018


Renault

Sandero

2007-2012


Renault

Sandero II

2013-2018


Renault

Scenic IV (with Start/Stop)

2016-2018

Renault

Talisman (with Start/Stop)

2016-2018

Renault

Trafic

2017-2018

Škoda

Fabia

2010-2014


Škoda

Octavia II

2009-2012


Škoda

Rapid

2013-2015


Škoda

Superb

2009-2015


Škoda

Yeti

2009-2018

Smart

ForFour

2014-2018

Subaru

Forester (with Start/Stop)

2019-…


Subaru

Forester 4 (with Start/Stop)

2013-2018


Subaru

Forester 4

2013-2018


Subaru

Legacy (

with Start/Stop)

2018-…


Subaru

Legacy (

with Start/Stop)

2009-2015


Subaru

Outback (

with Start/Stop)

2015-2018


Subaru

Trezia (with Start/Stop)

2010-2018


Subaru

XV (

with Start/Stop)

2012-2017


Subaru

XV

2012-2017


Subaru

XV (

with Start/Stop)

2018-…


Subaru

XV

2018-…

Toyota

Allion RHD (with Start/Stop)

2007-2012


Toyota

Alphard

2012-2018


Toyota

Alphard (with Start/Stop)

2008-2011


Toyota

Aqua RHD (with Start/Stop)

2011-2014


Toyota

Auris (with Start/Stop)

2012-2018


Toyota

Auris RHD (with Start/Stop)

2007-2011


Toyota

Belta RHD (with Start/Stop)

2006-2009


Toyota

C-HR

2017-2018


Toyota

C-HR (with Start/Stop)

2017-2018


Toyota

C-HR (with Start/Stop, Hybrid)

2017-2018


Toyota

Camry XV40 (with Start/Stop)

2007-2010


Toyota

Camry XV50 (

with Start/Stop)

2012-2017


Toyota

Camry XV50

2012-2017


Toyota

Camry XV70 (

with Start/Stop)

2018-…


Toyota

Corolla

2013-2018


Toyota

Corolla (with Start/Stop)

2013-2018


Toyota

Corolla (with Start/Stop)

2006-2012


Toyota

Crown RHD (Hybrid)

2012-2015


Toyota

Crown RHD (with Start/Stop)

2012-2015


Toyota

Estima RHD (with Start/Stop)

2012-2016


Toyota

Fielder RHD (with Start/Stop)

2013-2018


Toyota

Fielder RHD (with Start/Stop)

2007-2012


Toyota

Fortuner (with Start/Stop)

2015-2018


Toyota

Fortuner

2015-2018


Toyota

Harrier RHD (with Start/Stop)

2013-2018


Toyota

Highlander (with Start/Stop)

2008-2013


Toyota

Highlander (

with Start/Stop)

2014-2018


Toyota

Hilux

2016-2018


Toyota

Hilux (with Start/Stop)

2016-2018


Toyota

iQ RHD (with Start/Stop)

2008-2016


Toyota

ist RHD (with Start/Stop)

2007-2018


Toyota

Land Cruiser 200 (with Start/Stop)

2016-2018


Toyota

Land Cruiser 200 (with Start/Stop)

2008-2015


Toyota

Land Cruiser 200 RHD (with Start/Stop)

2008-2015


Toyota

Land Cruiser Prado (with Start/Stop)

2010-2017


Toyota

Land Cruiser Prado

2015-2017


Toyota

Land Cruiser Prado (with Start/Stop)

2018-…


Toyota

Land Cruiser Prado

2018-…


Toyota

Land Cruiser Prado RHD (with Start/Stop)

2010-2018


Toyota

Mark X RHD (with Start/Stop)

2012-2016


Toyota

Noah RHD (with Start/Stop)

2010-2013


Toyota

Noah RHD (with Start/Stop)

2014-2018


Toyota

Porte RHD (with Start/Stop)

2012-2018


Toyota

Premio RHD (with Start/Stop)

2007-2018


Toyota

Prius (with Start/Stop)

2016-2018


Toyota

Prius (with Start/Stop)

2010-2015


Toyota

Prius RHD (with Start/Stop)

2010-2015


Toyota

Ractis RHD (with Start/Stop)

2010-2018


Toyota

RAV 4 (with Start/Stop)

2006-2012


Toyota

RAV 4

2013-2018


Toyota

RAV 4 (

with Start/Stop)

2013-2018


Toyota

Sai RHD (with Start/Stop)

2009-2018


Toyota

Vanguard RHD (with Start/Stop)

2006-2012


Toyota

Vellfire RHD

2011-2015


Toyota

Venza (

with Start/Stop)

2012-2016


Toyota

Vitz RHD (with Start/Stop)

2010-2018


Toyota

Vitz RHD (with Start/Stop)

2006-2009


Toyota

Voxy RHD (with Start/Stop)

2007-2013


Toyota

Wish RHD (with Start/Stop)

2009-2018

Volkswagen

Amarok

2010-2016


Volkswagen

Caddy

2010-2015


Volkswagen

Caravelle

2016-2018


Volkswagen

Golf 6

2008-2013


Volkswagen

Golf Plus

2009-2014


Volkswagen

Jetta

2010-2018


Volkswagen

Multivan

2011-2018


Volkswagen

Passat B7

2011-2015


Volkswagen

Passat CC

2011-2015


Volkswagen

Polo

2009-2014


Volkswagen

Polo Sedan

2012-2018


Volkswagen

Scirocco

2008-2015


Volkswagen

Tiguan

2010-2016


Volkswagen

Tiguan

2007-2009


Volkswagen

Transporter

2016-2018